Arts add beauty, happiness to education
Students who take a fine arts class are five times less likely to drop out and twice as likely to go to college. Eighty one percent of people say that arts bring them joy and happiness in their lives, according to a study done by Americans for the Arts. Reading, writing and arithmetic may be the cornerstones of education, but the fine arts add the beauty and hope many need to make it through the years of high school.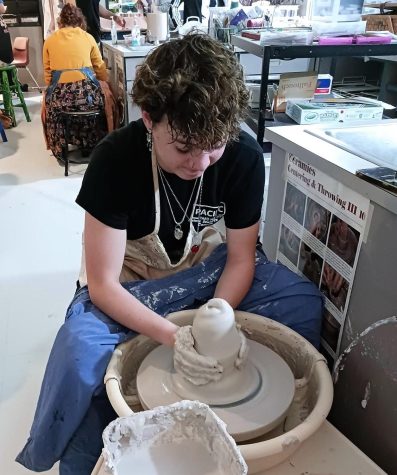 The second week in September is National Arts in Education Week. It was created by Congress in 2010 as a way to celebrate the community, as well as recognize what fine arts does for society.
According to WISD Director of Fine Arts Kenneth Labonski, there are three valuable pieces that contribute to fine arts education. Skills that not only apply to students now, but that will help them well into adulthood. 
"The first, for some people, the direct skills that you're going to learn," Labonski said. "If you wanna be a music teacher or a visual arts teacher, you're starting the path of learning the skills that will ultimately be there when you figure out your career. If you want to go to college and study a fine art, you're learning direct skills that are going to help you to be successful in that. Those are direct skills."
Directs Skills are not all that is learned.
"The next set is something that some people call soft skills," Labonski said. "If you asked people to get in front of a room and speak and address the group, sometimes people think that's their biggest fear. Any performing organization is going to teach you how to be confident and be able to have those kinds of skills. Soft skills are things like how to be a leader, whether that's being a leader in a sort of work to accomplish something."
Labonski feels there is a third reason arts are important to the educational process.
"The third way I think fine arts is important is that it is valid for every student," he said. "It is that you are teaching people how to enjoy life. You're teaching them how to actually enjoy the time they've got on the earth. Whether that is expression through the drawing or signing in a choir, even if you're not going to be doing that professionally, it's a way that you are finding experiences with people to enjoy their life and figure out how to be content."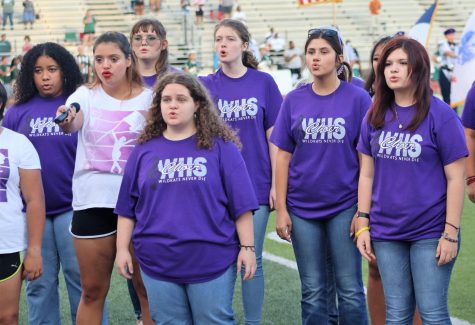 Because arts education has such an impact on developing people, it is important that the school has many options, providing people with any interest with a way to get involved. 
"I think it's important to find out what brings you passion and what motivates you," fine arts department chair Laurelyn Korfhage said. "Not every person is the same. Not everyone is going to like doing a monologue in front of everyone and not everyone is going to like working all the technical aspects of being backstage in theatre, but if you have variety, there are so many different things people can try out and see what actually brings them joy." 
Though not all students joined their organizations with the intent to necessarily dedicate themselves to it, many people found homes in the places they ended up. 
"In high school, I think it's important that kids learn how to find themselves, within high school, cliques and groups, but also within themselves and their individuality," junior Samantha Sullivan said. "What drew me to choir and art at first was the fact that I didn't have to carry around a band instrument or write reports on old musicians, but now it's like I've found the people that I want to grow with and be a group and a team with. I've definitely found my family here."
For some students, the arts have been their passion since they were young kids and now they still find light in their hobbies. 
"When I was in elementary, the sound of applause when I walked on stage for A-B honor roll was what got me," junior Breanna Killian said. "Choir is always at applause and you get to make peoples' days, and I just love that. Fine arts is a way to inspire others, and really leave an impression on other people's lives. Any joy that music and theatre and art can give to somebody, I just love to pursue that."
Anyone who has a passion for creativity will tell you that they find it to be an outlet for their own emotions. It's something that people can rely on to be there for them, and use to express themselves.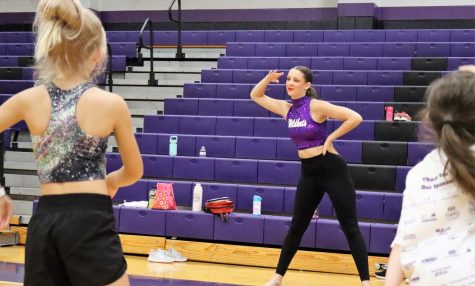 "I enjoy being able to express myself through dance," freshman Haylee Light said. "Fine arts to me is a way of entertaining yourself, and also express your feelings in a different form other than speaking, sort of showing what you can do."
Leaders say they look for backgrounds in creativity in their employees because it shows that they have those skills and abilities built from that experience.  
"It's proven that music scientifically connects different parts of your brain that other subjects can't do," Korfhage said. "Math enhances one part of your brain, history enhances another, but music is a cross-curricular way that just makes you a better thinker, a better problem started  and better at anticipating all these different things, so it kinda brings everything together. You can find real-life applications for everything in music and art, whether it's visual or performance, there are all kinds of things to advance your career, your education, everything, so it's kinda full circle." 
For teachers that turned fine arts into a career, everything those years and experiences did for them has taken them full circle in teaching the next generation.
"Fine arts has always been a massive part of my life," Korfhage said. "When I was in high school, I took art, I took theatre, I took choir. I took everything that I could. I really value what the arts did for my education, and now to be able to provide a positive healthy environment for my students, it's just a really huge deal, it's a blessing honestly 
It is the teachers and instructors that are truly at the center of everything. National Arts in Education Week is just as much about them as it is the organizations and students. It is safe to say that the fine arts department will only improve through the coming years due to these brilliant people who do so much for the students.
"Our fine arts faculty at this school has just gotten better every single year," Korfhage said "I think our team really, works together. We've got a lot of teamwork going on, and because our relationship is so strong, I think we're able to offer an even better environment for kids. I'm really excited to have this team to work with, and I know that we all want what's best for kids. We put the kids' priorities first, and our students thrive because of that." 
Leave a Comment
Donate to The Voice of the Wildkats
Your donation will support the student journalists of Willis High School. Your contribution will allow us to purchase equipment and cover our annual website hosting costs.