See You at the Pole draws students to school-wide worship service
Growing up isn't easy. Especially when high school comes around. People get brought into the wrong crowds, stuck under bad influences and peer pressured into doing things they never wanted to do. There's also the never ending battle for popularity as well as constantly wanting to be accepted. However, not everything about high school is bad. With clubs like Fellowship of Christian Athletes, otherwise known as FCA,  it gives students an opportunity to grow together in Christ and encourage each other through the difficult times.
FCA held See You at the Pole on Wednesday at 7:00 A.M. This event has students gather around the flag outside before school to worship and pray together as one body in Christ. Although it is early in the morning, this FCA event truly sets a positive, healthy mindset for the rest of the day. The students at FCA also prove to show how they want to be a friend to those who need them.
"See You at the Pole is important because it allows students to break away from school being a place for hard work and education to where instead they can start their day with their friends, God," senior Janice Talley said. "Some people may not have many friends who know Christ, but now they can know people to go to for their walk for Christ. It's important to me for that same reason. I want to make sure all my peers know that they can come to me when struggling with their walk, and See You at the Pole just kind of introduces that." 
Being the leader, Talley exemplifies how even though she's in a leadership position, she still faces the same struggles everyone else faces. She wants people to know that she's always there to support people through difficult times.
"I'm a leader in FCA, and again, it's for the same reason; I want people to know they have help and that they're people with the same struggles that can help them go to God," Talley said. "My favorite part was definitely the small groups. It's so nice to know that I can listen to people praying to God and I can feel their bonds that they have with Him. It just proved they want to grow closer to Him. I felt the spirit move just from the setting. We go to school every single day and we walk the same halls and eat at the same cafeteria, but it didn't feel like that when we were worshiping. It didn't feel like I was at school. It just felt like I was in a giant heartfelt circle where we all had the same goal, and that is to be in heaven one day. I think I gained a closer connection with God, but just because I'm a leader doesn't mean I don't struggle too. I felt like I was pulling away from my connection with God and it just showed me how much I need Him in my life. With being a leader, it makes me feel like I'm doing my job right when other people are worshiping the Lord. It makes me feel like I'm making a change."
Other members of FCA share the importance of the event, sharing how the club is a place to show vulnerability—a safe place to be.
"This event is important because it is a designated day across the country for people to all pray and worship together," senior Laci Dorough said. "It is important to me because it brings together a group of people who may not know each other to come together and celebrate their same beliefs. 
Dorough shared her personal experience as she is able to mentor other students in prayer, all of them feeling the spirit move within them.
"Attending FCA is a way to have a group of believers to surround you," Dorough said. "My favorite part of it was the worship. Watching people sing together and see their love for God is so beautiful. I felt the spirit move in my prayer. My sister and I were in the same group and it was so cool for us to be able to share moments like those together. I feel like spiritually I gained a position to be able to help others. I led a prayer group and I hope that the younger girls in my group feel that they can come to me and that I will be there for them."
Although it was a spiritual experience, people who attend See you at the Pole want to carry out the Great Commission, wanting to spread the word of God.
"I think See You at the Pole is important because it gives both students and Christians an opportunity to gather with other fellow Christians," junior Lilly Blue said. "This event is important to me because it gives me another perspective of our community of Christians that are in the school and it helps to encourage me to spread the word to those around me, helping me to fulfil God's mission for my life. I attend FCA because as a Christian, it's my role to spread the word of God and I think with FCA I have so many opportunities to spread the word and encourage more people to turn to Christianity."
Through all of the singing, worshiping and prayer, students felt their souls touched, realizing that the only thing that truly matters in life is to worship the God who is always good.
"My favorite part was the worship because although the student-lead prayers were really great, I loved the worship. Even though there was the main worship people singing, we all came together and harmonized and could really feel the spirit move. I think with everyone raising their hands to sing, we all felt connected as one big body of Christ. We felt like a whole bunch of Christians united at that moment," Blue said. "I think spiritually, I gained a better understanding of how to spread the word of God because I was able to talk to people who have never gone to events like this which helps me learn how to talk to them which helps me fulfill the Lord's work."
Leave a Comment
Donate to The Voice of the Wildkats
Your donation will support the student journalists of Willis High School. Your contribution will allow us to purchase equipment and cover our annual website hosting costs.
About the Contributor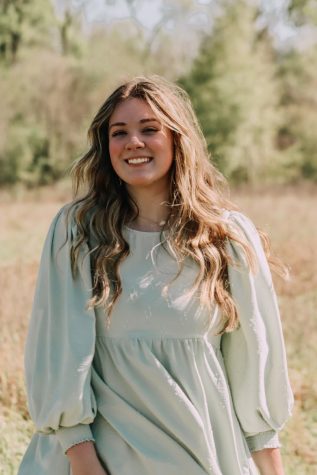 Emma Lowe, VOW staff
Emma Lowe is a senior that is involved in both the school's yearbook and newspaper. In her free time, Emma enjoys singing on stage at churches or special...