Big Fish makes big start as cast begins rehearsal for musical
"Son, you give a man a fish, you feed him for a day. You teach a man to fish, you feed him for a lifetime. You teach a man the Alabama stomp, you feed his soul!" 
Big Fish the musical has officially been cast and started working on production. The show will be in the performing arts center on January 27th and 28th.
The story follows Edward Bloom, an old man who tells far-fetched tales about his life. His son, Will, starts looking for the truth behind his stories in an attempt to figure out who his father is. The show is comedic as well as emotional, and all around an amazing show. 
"In the past, we've done Little Shop of Horrors, Bye Bye Birdie, The Cabaret, and Grease," choir director Lauralyn Korfhage said. "This is our fifth year doing a musical. They had them before, and they would perform at Lynn Lucas, but that's what we've been doing since we got the PAC."
Through the years, as the community became more accustomed to putting on the shows every year, the musical has become more and more elaborate, showing the skills of the amazing talented students.
"The first musical we did was a bit smaller scale as far as costumes, sets, and everything it was pretty stationary, but now that we've gotten to Grease, and Big Fish this year, we're able to do a lot of moving set pieces, a lot more elaborate costumes, lighting, all kinds of thing that have really made the production a lot more upscale.," Korfhage said. "And the singing! The music in this show is so incredible. There's just so much talent throughout our school vocally. The story is a lot deeper. This definitely dives into some deeper topics that a lot of adults can relate to as well as students. The emotional journey, music, and all of the technical aspects are just going to be fire."
Those cast in the show are pumped for what lies ahead. A big part of acting is being able to enjoy the atmosphere and what you're doing in the production, as well as being able to connect to your character. 
"I did the musical last year, I got an ensemble member," junior Marcus Shumake said. "I really enjoyed dancing and the energy in the room, because when everything came together, it was awesome. This year I'm playing Edward Bloom. The main character reminds me of my grandpa a lot, it's kinda freaky. He doesn't shut up and he tells all these stories about the war."
For some, theatre has been a passion for years, but for some in the cast, this is their first experience with anything of the sort. Anticipation is definitely building for those who are just learning what it means to be in the musical. 
"I joined for the fact that there are a lot of people in it, and just how much fun I thought it would be to do a show with other people as well as my friends," freshman Annabell Smith said.  "I'm looking forward to learning the dances for the ensemble next week, and the big performances we'll have in January."
Anyone who has ever been on a stage will say that there are things you are giddily excited about, and some things that are very nerve-racking. However, once it all comes together, it's the best feeling in the world. 
"I play Will Bloom, Edward's son," junior Aiden Hamilton said. "I've done theatre for two or three years. I think it's just my passion personally and it just gives me a lot of joy and something to do after school, because not a lot of things are after school that I enjoy. I am terrified to voice crack on stage, I am terrified. Plus, I just feel like I'm gonna mess up something. However, I'm really looking forward to my solo song, just because I've been listening to it and I think it's a really good song."
Through the next few months, the students will be working diligently to build a show that will leave the audience blown away. The entire community is welcome to see this amazing production.
"I like that my character is more of an emotional one, cause usually I play a lot of more funny or comedic characters, so it's a change," Hamilton said. "I'm really excited to work with Marcus, he's gonna be fun to work with."
Leave a Comment
Donate to The Voice of the Wildkats
Your donation will support the student journalists of Willis High School. Your contribution will allow us to purchase equipment and cover our annual website hosting costs.
About the Writer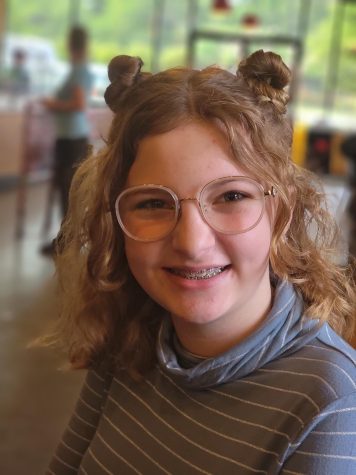 Gracie Brumlow, VOW staff
Gracie Brumlow is a freshman at Willis High School. She enjoys theatre, choir, and of course, writing. This is her first year on the newspaper staff, and...