Baseball team knocks support out of park
Donations raised to go to coach following devastating house fire
Baseball is a sport known for its high emotions. The enthusiastic cries of the fans. The nailing-biting windup of the pitcher. The crack of the bat as it sends the ball into the stands to the roaring crowds delight.
What fans don't see is what exists right under the surface: a family that is willing to go the extra mile for those it cares for when they need it most.
When the baseball team gathers for their Meet the Kats: WildKat Family Baseball day at 10:30 Saturday morning, it will be about more than just pie eating and face painting. Proceeds raised through donations and the concession stand will go to Coach Matt Pavlich and his family's recovery efforts following a house fire on the 20th.
News of the fire broke during after school practice, throwing players and coaches into shock, uncertainty and fear.
"Jennifer and my son Pryce as well as our two dogs were the only people at home around the time of the fire, which was last Friday around 6:30," Pavlich said. "The home was pretty much completely destroyed, and we pretty much lost everything besides a couple of items. I was actually at baseball practice during the time of the fire."
Pavlich has been an integral part of the baseball community in Willis and has been volunteering to coach baseball at the high school this year.
"Last year right before school started, me and my fiance Jennifer decided to move our new family to Willis," Pavlich said. "The reasoning was we felt like Willis still had the small town feel to it.We have three kids that go to Brabham and one that attends Lagway, so we have only been here for two years."
By interacting with the players and the community at large, Pavlich has been able to form strong bonds that draw comparisons of the relationships families build with each other. 
"I've never been involved in something like this in my life so I've never experienced anything like this before," Pavlich said. "All I can say is Willis, Texas still gets it. We feel so loved you have no idea. It gets me emotional just to speak about it. Words really can't describe how much we appreciate this town."
Those bonds are why at that fateful practice, the players he'd coached throughout the year were more than ready to support him as much as he had supported them.
"That practice we felt like a family honestly," senior Brayden Hawthorne said. "He's a great guy and all the kids love him, he's definitely made an impact on the program so we all were just supportive and with him through it. We had some fundraisers for the baseball program and a good portion of the money went to him and his family as well as a link on social media that we all posted for everyone to donate some money for his family."
Immediately after the fire, the team jumped into action, with multiple donation-gathering and fundraising projects gaining serious traction and community support, one of which is The Meet the Kats: Wildkat Baseball Family Day.
"There will be two intersquad games going on with food, fun games, pie eating, music and plenty of other fun activities," freshman Justin Zakos said. "We are helping through the money that the community raises from donations, and on Saturday the money from concessions made, part of it goes to Pavlich."
Though not originally planned to be a fundraiser, the baseball team was more than willing to use the proceeds from the event to help out the Pavlich family.
"The Meet the Kats: Wildkat Baseball Family Day was an already scheduled event at the baseball field this weekend," head coach Brett Washburn said. "Following the fire on the 20th we decided that we would donate the proceeds that our concession stand makes to his family to help replace lost items in the fire. The community has already done so much and been a great blessing to his family."
Oftentimes an activity, whether that be baseball, boxing or a book club, can be far more than a way to kill time or get fit. It can form a community, bring unlikely people together, and truly create a family. When a family member endures hard times and needs help, the family will always respond with such love, support, and enthusiasm that it would make a game-winning homerun seem small.
"I feel like right now God has shown us why we moved to Willis," Pavlich said. "Our baseball team is closer than ever. Players from last year and this year have reached out and I've received over 100 text messages. Hearing your players say 'we love you coach' is something I will never forget."
Leave a Comment
Donate to The Voice of the Wildkats
Your donation will support the student journalists of Willis High School. Your contribution will allow us to purchase equipment and cover our annual website hosting costs.
About the Writer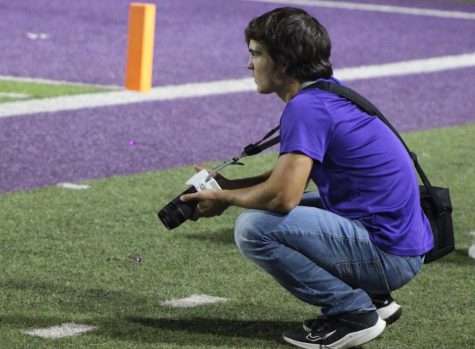 Jason Clark, VOW staff
Jason Clark is a senior at Willis High School and is currently enrolled in newspaper and yearbook. Jason is a four-year journalism student and has placed...