Junior headed to state powerlifting meet
The inexplicable often leads to questions and uncertainty. A sudden noise in the deep darkness that follows the night into the late hours of the day will cause a person's heart to race. The restless unknown will grab him by the gut and command a feeling of dread and uncertainty that only something without an explanation can cause. And although the inexplicable tends to feel dangerously mysterious and unpredictable, a feeling that junior Makinna Kleb doesn't have an explanation for fills her with a determination to reach for high goals in all she does and a natural desire to help others.
Kleb is the only girl powerlifter to qualify for the state-level competition on March 15, 2023 in Frisco, Texas, but powerlifting isn't the only thing she dedicates her time to.
"I was very determined to go to state even though it is only my first year in powerlifting," Kleb said. "I really want to place at state, and I am working very hard to be able to lift more and get my total lift score into the thousands so I can have a better chance at placing in the top five for state."
Kleb trains for powerlifting after school in the weight room, but she also strengthens her body by going to the gym as early as 4:30 a.m., while she maintains a busy schedule that includes multiple college-level classes and the creation of a nonprofit organization.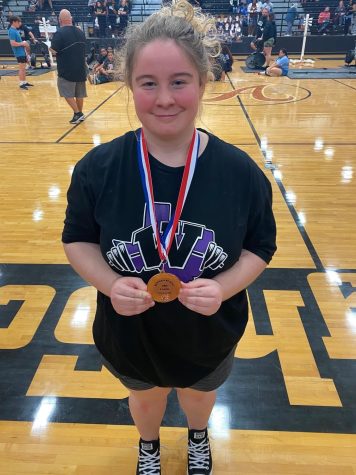 "I have a lot of DC classes as well as a nonprofit organization that I am trying to get set up as a club here," Kleb said. "I have always wanted to help people and give to the unfortunate that can not afford the things that I and everyone else more fortunate can have. I have always been interested in giving gifts to children in the hospitals during Christmas time and thought that it would be cool if all the less fortunate families could receive gifts for every holiday all year round."
Finding the motivation to consistently give time to her nonprofit comes to Kleb through her dreams for her future in a field that centers on helping people.
"My motivation comes from what I aspire to be in the future," Kleb said. "I want to be a medical researcher and gradually grow my nonprofit to be able to help even more people and be able to provide more for them. I want to become a medical researcher and cure the illnesses and diseases that a lot of people suffer and potentially die from."
As college courses are offered in high school, Kleb takes the opportunity to familiarize herself with the workload and advance her education.
"What I am doing now is helping me create a solid foundation for my future plans in life," Kleb said. "It allows me to get experience in some of the things and goals I have for later in my life. Being able to take my college classes now and being able to graduate with my associate's degree will help me so much in the future because I am able to get a little feel for how college will be."
Society is strewn with those less fortunate but also those who are willing to reach out a helping hand, and Kleb is one of them.
"I don't really know where my desire stems from, but you could say I just want to help them because I have so many good things in my life, and I know that not everyone can afford or be able to get the opportunities and other things that I have," Kleb said. "I just have always wanted to help the unfortunate, and I want them to have someone there for them and be able to get some of the things that other people normally have."
Leave a Comment
Donate to The Voice of the Wildkats
Your donation will support the student journalists of Willis High School. Your contribution will allow us to purchase equipment and cover our annual website hosting costs.
About the Contributor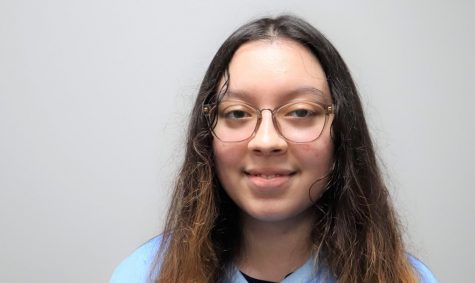 Rosalyn Gutierrez, VOW staff
Rosalyn Gutierrez is a junior. She has been in newspaper for two years, and she is in yearbook for the first time this year. She enjoys taking pictures...