They can be heard from around Berton A. Yates Stadium. Shouting, cheering and dressed brilliantly from head to toe, the PitKru slams trash can lids together and jumps around. This commotion is not just noise. It is support for the the football team and encouragement for the student section to cheer the loudest they can.
After a year away, the PitKru is back on the track during home games. Sophomore, juniors and seniors can join new director English teacher Chris Slovak to become proud representatives outside of the student section by joining PitKru.
"As our campus grows more and more people join our Wildkat family," PitKru sponsor Christopher Slovak said. "We need to be sure we show them what it means to be a Wildkat. PitKru is here to lead the charge when it comes to all things spirit." 
Students in PitKru find joy around every corner.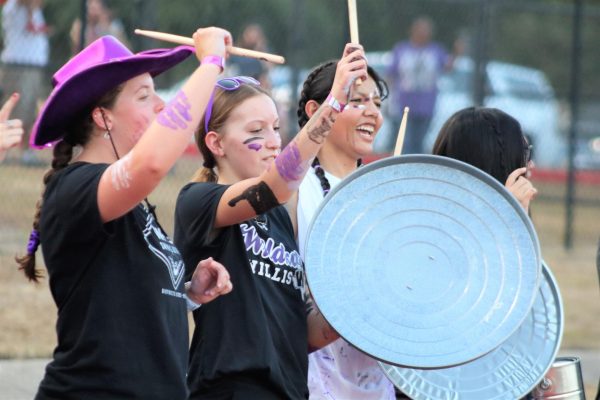 "PitKru gives you a sense of enjoyment," junior Charles Elliott said. "Being able to cheer alongside your classmates for a team you all agree to love and support is so rewarding."
PitKru not only offers spirit to student section members and football players, but they also provide the cheerleaders with positive morale.
"I think PitKru is really important," senior Emily Vaughn said. "It helps everybody stay hyped and whenever the band is getting discouraged or the student section starts getting quiet, they can look to the PitKru for motivation. If I wasn't on the sidelines with the cheerleaders, I would be with the PitKru."
PitKru members' colors don't run. Showing support doesn't have to stop at football games.
"PitKru brings energy everywhere it goes," Slovak said. "We've started with football games, but we will soon branch out to pep rallies and other sports as well. PitKru members are full of spirit and are not afraid to make a lot of noise to show it."
Those interested in developing spirit campus-wide can see Slovak in room A123.
"To me, school spirit is a physical representation of how much I love my job and my students," Slovak said. "For students, it shows off their pride for their school and their love for the families they've made here."