Every year the school hosts a big homecoming game and a homecoming dance. As school spirit flows in the air to cheer for the football team many are dreaming of being dressed-up and having fun at the dance with loved ones. 
The homecoming game is the best way to celebrate being a Wildkat.
Following this, the expenses that will require you to attend the homecoming game are minimal. Only eight dollars a ticket compared to the $40 it costs to get into the dance is a big difference. The dance also would require other expenses such as appropriate dressing and an optional corsage for your date. But the homecoming game allows you to spend no extra and if you would like and provides easy themes to dress up in to show school spirit.
Additionally,  the homecoming game gives students a chance to connect and allows all the people of Willis to come together. The game hosts hundreds of seats at Yates Stadium for many people to come out and watch. For the homecoming dance, however, its space is only limited to our school's cafeteria. It also allows all the people of Willis to join together since it allows students from the middle schools and whoever else would like to join, to be able to experience the excitement of, our homecoming game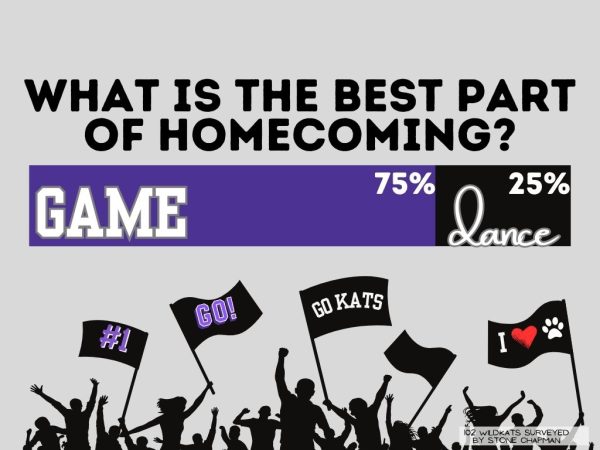 The homecoming game allows students to showcase many different organizations that practice to show off on FNL. No matter if you're a student, parent, or alumni, the homecoming game does not limit you to coming out to support. Many different events are being held at the game as well such as the band, the Sophistikats, cheerleaders, color guard, and the exciting and iconic reveal of the homecoming queen and king. So no matter the intention, there is always something that would peak interest that the homecoming game portrays. 
People argue that the homecoming dance is better than the game, but the overall excitement and different activities that bond the Willis community are better than the unexclusive dance. 
The homecoming game is better than the homecoming dance because of the price, the connection it allows for all of Willis to come together, and the showcase of many different organizations to support. The special bond the homecoming game creates is a high school experience everyone from our school should experience.