As the weather shifts from constant sunshine to rainy days, earlier sunsets and almost chilly temperatures, the time for spooky movies has risen. One of the greatest joys of October is the feeling of a cozy blanket and suspenseful butterflies in your stomach…as you watch a group of innocent teenagers get brutalized at an abandoned summer camp.
With Halloween quickly approaching, many students like to embrace the chilling classics associated with this spooky holiday.
"The best Halloween movie I've ever seen is 'Halloween 1978,'" senior Matt Ward said. "I really liked Michael Myers and the whole movie is set right before Halloween. I don't think many people our age have seen the '1978 Halloween,' and I think they would enjoy it."
Several students also enjoy the eerily realistic effects that modern horror films can provide.
"Elements that make a horror movie actually scary to me are the gore and jump scares," sophomore Katelyn Davies said. "My favorite horror movie is 'Spiral,' because of the gore."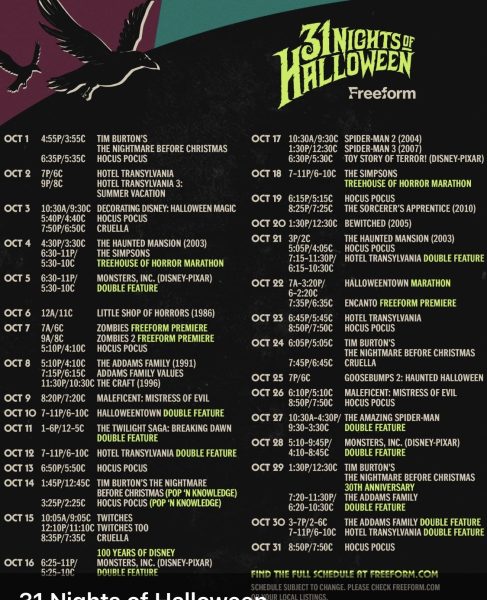 One great tradition to partake in during this time of year is a Halloween movie marathon. Students stressed that the key to an ultimate Halloween movie marathon is good snacks, a dark room and friends, however, their movie suggestions were all over the place. While everyone has their opinion on what the best Halloween movie is, most people unanimously agree that the scary must also be balanced with some more light-hearted specials as well.
"The key to an ultimate Halloween movie marathon is a mixture of more wholesome Halloweeny movies and some scary ones," senior Ava Hardin said. "But I think the best Halloween movie in general has to be 'Coraline,' hands down."
Some students even enjoy Halloween movies with a good laugh.
"I like 'Scary Movie,' because it was really funny," junior Elijah Maddox said. "I really like the crude humor they use to parody classics."
People's favorite ways to celebrate the season are with a good scare, laugh, and smile. Halloween movies have such a perfect, unmatched energy.
"It's the same reason people like watching Christmas movies so much," Ward said. "They like being festive and getting into the spirit of the holiday because it's a change of pace from the rest of the year."