The ambulance races to the hospital with no time to waste. A patient's life is at stake, and they're losing blood by the second. Time is critical and the doctors waste no time in saving this life. One solution to saving this life is something more valuable than anything else.
Blood is something that can not be recreated and it is one of the most important substances in curing someone. Luckily, blood drives are becoming more common and Willis High School held one on October 19, 2023.
The group hosting the blood drive is none other than HOSA or Health Occupations Students of America. Every year they host blood drives twice a year, one in the fall and one in the spring. 
"For the last nine years, HOSA has hosted blood drives in order to serve our community," advisor Katrina King said. "We started it because it saves three lives per donation and it makes a great impact in our communities. We hope to continue hosting blood drives year after year because of all the good it does. It's well worth the effort."
Hosting a blood drive is not something that can be run with a few people. Students who work the blood drive are very important in making sure it runs smoothly.
"I'm working on the blood drive because it's really beneficial towards others and helpful. Since I'm vice president my position is working the triage," senior Rylee Rick said. "My job is to make sure I sit where people have already donated and make sure they feel okay. It's important for me to make sure that no one passes out or feels unwell during the blood drive and have a good understanding of what's going on during the blood drive and what they're doing is important."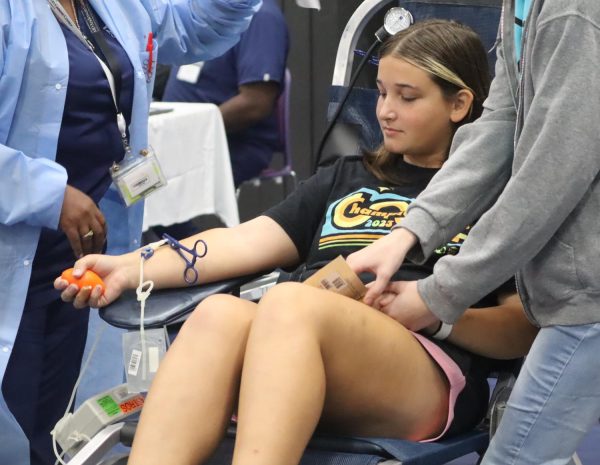 Because of the risk of passing out, other HOSA members workstations that make sure donors are fed.
"My job is providing water and food to the donors before they donate. Volunteering and helping people make sure they can donate blood is a good way to help HOSA and I get to earn volunteer points," junior Adela Saldana said. "If donors do not eat a good meal before they donate then they could pass or they could feel dizzy and sick. We want everyone to be safe and careful and donate blood successfully."
While some people donate to get out of class or get a free t-shirt, giving blood means more than that to some donors.
"I've been in the case where I needed blood donations for my operations when I was younger and I was so grateful for the donations," senior CC Rausch said.  "I want to help people and give back to the community just like they did with me. Knowing that I'm returning the favor to those who gave blood to me before, it feels good and makes me happy that I'm helping people who could be in my position." 
Others feel that donating blood is more than just a donation rather they are impacting someone's life with their choice.
'I'm donating because it would be a nice thing for the community and it's my first time doing it. It feels pretty good that something small I'm giving has a big impact on someone else," senior Ashley Balon said. "It's a nice thing to do and I feel lucky that I can save lives by giving blood" 
Giving blood seems like a scary and stressful experience but quite the opposite happens. With the help of the student volunteers and staff, the experience goes smoothly for donors.
"Whenever I entered, all I had to do was show my ID so they could check if I was eligible to donate. Once they verified my age I went over to the next station and wrote my contact info down and answered some health questionnaire questions," senior Sophie Hicks said. "After answering questions, I was then tested to make sure I wasn't anemic and then took me to the chair where they gave me a bag and then donated blood. I would donate blood again in the future based on how smooth the process was."
After a successful blood drive, roughly 80 pints of blood were donated.
"We had about 80 donors donate so that equals around 240 lives saved. This blood drive has been the best one I have run. We have a new vendor; MD Anderson and they were professional and gave great customer service to the students," King said. "We did not have any students waiting and the average time in and out was less than 45 minutes. This has been the best blood drive in the last 8 years. We are thankful to have an affiliation with MD Anderson."