The stage is full of people just like the blonde girl in cowboy boots and white hat from a small Texas town. Each of the five players feel like they love the star the most. After playing several rounds of games with their hero, one fan will ultimately be selected  to win the big prize of a "once-in-a-lifetime" experience. Well, that is the very premise of the brand new game show titled "Superfan," which just premiered this August. 
A few artists that have been featured on this show so far include Pitbull, Shania Twain, Gloria Estefan, and Kelsea Ballerini – the musical artist that Willis High School graduate Kristen Kuhl proved herself to be the ultimate superfan.
"I graduated from Willis in 2016. I was a cheerleader and was captain my senior year, involved in NHS, student council and UIL," Kristen Kuhl said. "Back in March of 2022, I went to see Kelsea Ballerini in Choctaw, Oklahoma. The night I got home from the show, I saw an ad on social media that Kelsea had reposted from a casting agency about being on a show to compete to prove you are Kelsea's number one fan." 
The casting call reposted by Kelsea Ballerini that night would go on to change Kuhl's life forever.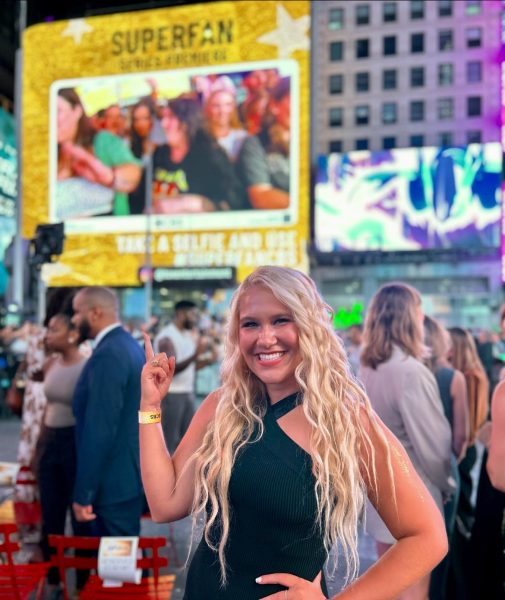 "I believed I was Kelsea's number one fan, so I had to apply. The next day I got a call from a casting agent and was invited to start the casting process," Kuhl said. "The process took about a month and a half and I went through many rounds of interviews and psych evaluations. At the end of April, I was invited to fly out to LA and potentially be on the show. It wasn't until the show started that I found out I was selected to be on TV. Fun fact, out of thousands of applicants that applied, I was the very last one and ended up winning the show."
Kuhl wasn't much of a 'superfan' until her perspective was changed by one of Kelsea's live performances. 
"Kelsea's debut album came out when I was a senior at WHS, actually. I started listening to her then. However, I really didn't become a superfan until I saw her live in Nashville and she released songs like 'Half of My Hometown' and 'Homecoming Queen'," Kuhl said. "Kelsea's music to me feels like advice from a big sister or a best friend, and that is why I love her so much. In a world that always makes you feel misunderstood, it's really special to find something you can connect with and that helps your heart and makes you feel like you're not alone in what you've been through."
Compared to other game shows that give out thousands of dollars or an expensive car as a prize, this show's "once-in-a-lifetime experience" may not sound promising. But in reality, it truly lives up to its name.
"I won a really special prize that includes rehearsing a song and singing it on stage at a show, VIP tickets, travel to a show, a signed guitar, and a hat from Kelsea's 'Hole in the Bottle' music video," Kuhl said. "Being able to sing on stage with Kelsea is a dream come true, and to me that is so much cooler than anything money can buy, so I am just so beyond excited and grateful."
The strike in Hollywood kept the show from airing for months. Kuhl's family had to keep the secret for a long time.
"Thanks to everyone who voted, shared the show, and got the word out to watch and support my girl," Kristen's mom Lisa Kuhl said. "This was a big secret-like a 1 1/2 year secret!! I'm sure some of you were wondering why I kept sharing commercials and things about this show Superfan. It was only way to get the word out with all the strikes going on in Hollywood."
Kuhl went on this show just expecting to have a great time with the musical artist she loves, but ended up making unforgettable memories. 
"When I went out to LA to compete on the show, all I really wanted to do was thank Kelsea for all her music has done for my heart," Kuhl said. "Getting to thank her, and have her react the way she did when I told her what her music has done for me was so special and is something that I will cherish forever and an experience I will never forget."