W – I – L – D.  GO WILD FOR THE KATS! 
With glittery poms and sparkly bows – cheerleaders are the heart of spirit and show it through stunts and flips that one could only dream of doing. Well, these cheerleaders did more than a few stunts at the UDA Cheer competition on November 4th. The competition team placed 1st in their division, with this being the season's first contest.
Getting to the first place finish was no easy task. Like many sports, the preparation leading up to the competition was hectic.
"The week leading up to the competition was crazy," senior Maddison Carrasco said. "We had practice every day after school and Saturday practice along with a football game and a pep rally but in the end, it was worth it."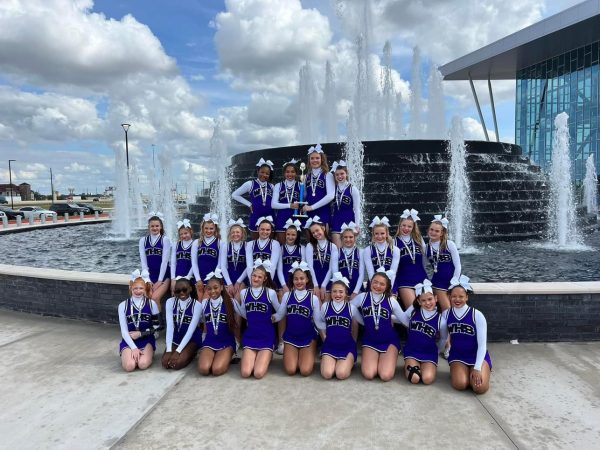 Once the day of the contest arrived it was a day full of emotions.
"Our team had to be up at the school at 7:30 am. So, to say the least, we were pretty tired by the end of the night. Upon arriving at the convention center we immediately were struck with nerves because of all the talented teams surrounding us," junior Gia Casso said. "However, we pulled through, performed to our best capabilities, and now can proudly say no time was wasted in our determination to win."
Although the day started early for the team the cheerleaders did not let that ruin their mood.
"Throughout the day it was amazing to see the girls work together and get excited about other teams competing, " senior Emily Vaughn said. "Being able to go to lunch as a team after winning first place was good for the team to build that bond and talk about the improvements we could make."
However, the hard work of these cheerleaders paid off when Willis was announced for first place.
 "Initially, I was pretty shocked! We have been working really hard since August with many practices, so it was awesome to hear that it paid off. All the cheerleaders jumped up and down as we accepted our award," Casso said. "Honestly, we knew the choreographed routine was well put together, and had the potential to win, but even with great confidence it is not a good idea to "expect" to win! Our team likes to keep great attitudes and expect the best."
With a first-place win, it's necessary to celebrate.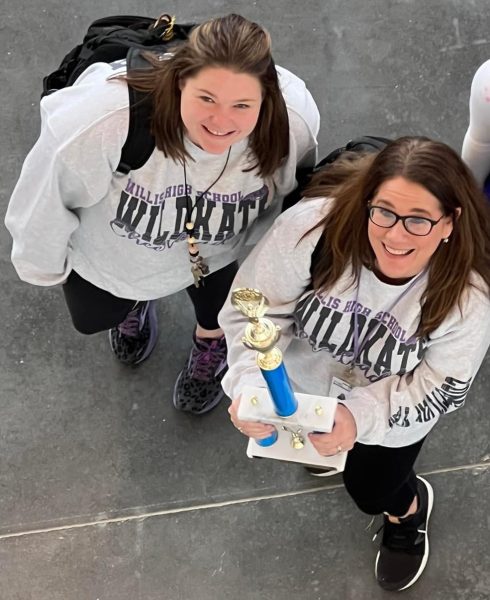 "We celebrated on the bus by singing with each other and taking lots of pictures, " Vaughn said. "Our coaches were so proud of us and acted more excited than us. It is always great having coaches who genuinely care about us and what we do. "
As one contest passes another awaits these cheerleaders in December.
"Currently, we are planning to go to a competition in Galveston on December 9th. Until then we will be changing a few things in our routine, practicing hard, and staying positive," Casso said. 
With one final season for the seniors, this leads to goals that they hope to achieve.
"This season I hope the team improves on skills and hits zero at least once," Carrasco said. "Being a senior on the team feels great knowing that I can expand my career and I have the opportunity to cheer in college but I will miss the friendships and bonds I have created with most of the girls on the team."