New Travis Scott collaboration: less about beats, more about barbecue sauce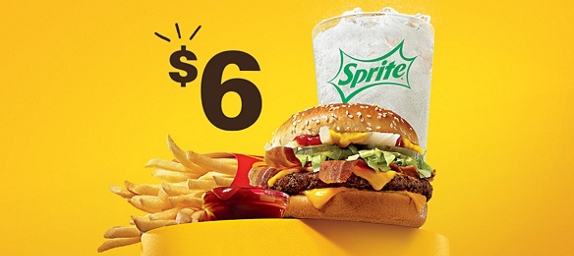 By now, everyone has seen the TikToks. A car drives up blaring "Sicko Mode." The driver leans out of the window screaming, "You know why I am here."
The result. A bag of McDonald's goodness with a Travis Scott twist.
The Travis Scott meal nicknamed the Travvy Patty, is the newest collaboration of the Grammy-nominated artist from Houston. This time the collaboration is less about beats and more about barbecue sauce.
For $6 plus tax, a customer gets a quarter pounder deluxe with bacon, medium fries and a medium drink plus a few BBQ sauces packets. 
The editorial staff and a few newspaper students had a taste test of this value meal. We added some of McDonald's new spicy nuggets to finish off the meal The reviews were mixed. Overall, the nuggets seemed to make a better impact. 
Katherine Lee, features editor: The Travvy Patty from McDonald's put me in a Sicko Mode, as it made me feel sick after I was done. The flavor was divine, from the crunch of the bacon to the smoothness of melted cheese, but the overall greasiness of the burger was too much. I had low expectations for the burger, as the collab between Travis Scott and McDonald's seemed a little random and like it was nothing special, and my expectations were right. The Travvy Patty was nothing out of this world, just a generic McDonald's quarter pounder with bacon.
Carlie Rutledge, co-editor: The Travis Scott burger was mediocre.  Personally, I just do not like McDonald's burgers, and this did not make me like them anymore.  It is just the quarter pounder with his name in the title.  Whereas the spicy nuggets were satisfactory.  Some nuggets were spicier than others, so the consistency needs to be better. 
Mariska Cullens, VOW staff: I think that the Travy Patty was pretty bland to be honest. It had all the same ingredients as the regular quarter pounder just with bacon and lettuce, so it was nothing special. It for sure wasn't worth the hype. The spicy chicken nuggets on the other hand were really good. They had a good spice to it that wasn't too spicy. They definitely pair well with the spicy buffalo sauce if you want an extra tang. All in all the meals were okay, nothing spectacular, pretty normal if you ask me. 
Heather Jackson, photo editor: The Travis Scott burger did not look appetizing at first glance. It tasted better than it looked. This burger was overall mediocre. It wasn't amazing, but it was not disgusting either. The burger quality and overall taste did not amaze me. It tasted, simply, fine. I would not eat it again. The spicy nuggets tasted good, but as I can't stand spicy food I did not like it. I liked the taste of the original nuggets, but the spicy nuggets were too much for me. 
Piper Neumann, sports editor: The Travis Scott burger was lowkey gross. Although, I am biased because I do not like cheese or bacon on burgers. I think burgers should be simple meat, lettuce, ketchup and pickles. The burger did not go dummy hard. The spicy nuggets, however, were delicious. They had a good amount of spice and taste great in barbeque sauce. I love chicken.
Summer Rains, arts and entertainment editor: I'm not one for lettuce and onions, but the burger wasn't that bad. It was probably one of the better McDonald's burgers I've ever had, but in my opinion the nuggets were better. The spicy chicken nuggets were more on the spicy side but they were still great. 
Emily Meachen, Wildkat Media adviser: I had tasted the Travis Scott burger once before. It was better then. These burgers looked thrown together. It was a mess before we sliced them to share. The bacon was thin and crispy. I liked that a lot. I also like the shredded lettuce. It made it much easier to eat. I am not a big fan of raw onion, but there was not too much on this burger. Not sure if I was supposed to pour the BBQ sauce on my burger or use it for my fries – so I did both. Maybe not worth all the hype, but better than a normal burger from McDonalds. The nuggets were yummy – but some were more than a little spicy. I would love to have them chopped up in a salad, but I don't think they will ever replace the originals. 
Leave a Comment
Donate to The Voice of the Wildkats
Your donation will support the student journalists of Willis High School. Your contribution will allow us to purchase equipment and cover our annual website hosting costs.