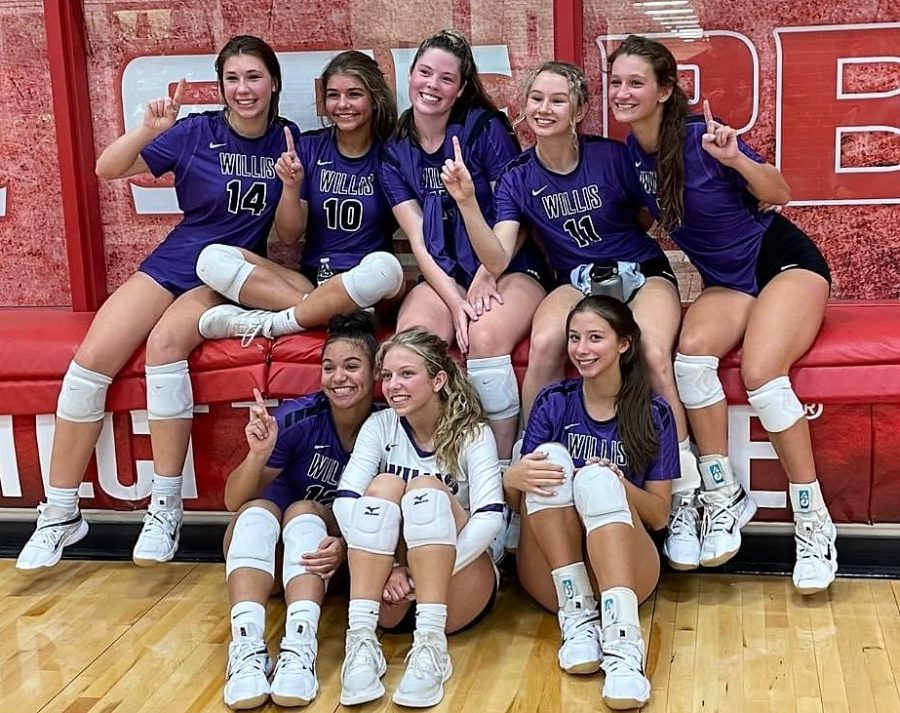 photo or infographic by courtesy photo
Fall sports, organizations get ready for competition
Aug 22, 2021
Game on. The players are practicing, the coaches are scouting, the drill team and band is preparing for their half time shows , the cheerleaders are ready to support and cheer on the Wildkats in this year's fall sports. 
The Wildkats tennis team has already started their season off with matches and afternoon practices.  Last week dominated rivals Huntsville, and they are working hard to get ready for the fall season. 
"This season is way more normal than last season," senior Heather Jackson said. "Last year, we weren't able to start until September which made us miss out on a month's worth of matches. This year, we have plenty of matches to prepare us before going into district and hopefully the playoffs." 
The cross country team has been putting in the effort and the hustle to prepare themselves for their first meet coming up to begin their season. They are running in Caldwell over the weekend. 
"We haven't raced in any meets this year yet," junior Jolie Boyd said. "But my goals for this season are to compete and do well in the races." 
The Ladykats cheer squad not only focuses on their grades for this year, but they work hard and put all their time into becoming better athletes, teammates and champions. 
"No change in the routine, just learning new things like stunts," junior Emma Atkinson said. "All the girls coming to varsity are amazing, and we're all working hard and becoming closer as a team and working together a lot more." 
The football team has come together to work harder than ever and make it to the playoffs with their heads held high. 
"Our goal this season is to win," sophomore Hunter May said. "Practice consists of running and sweating, along with formulating our game plan for the season." 
The Sweethearts are already preparing for their upcoming fall season, full of jam-packed practices and competitions out of state. 
"During the fall, we are participating in football by doing stand routines and our halftime shows," senior Alyssa Williams said. "We are practicing practically everyday in order for our team to show our hard work and to be the beautiful dancers everyone knows us as. While doing this, we are also beginning to prepare for competitions happening in early spring, as we want to be ready to win competitions, especially our Disney competition." 
The Ladykat volleyball team has started their season with early morning practices and late night games. With hopes of making it to the playoffs these Ladykats are putting every minute they can into their season.   
"My goals and hopes for the season is for everybody on the team to grow as a teammate and a better volleyball player and to have a great season with Coach Storms and Coach Shelly," junior Sophia Runey said. "The team has put in lots of practice on and off the court, which we put into our volleyball tournaments we started the very first week of school. We are becoming the best we can by playing the best teams all over the Houston area for our preseason." 
Student leaders push to make positive impact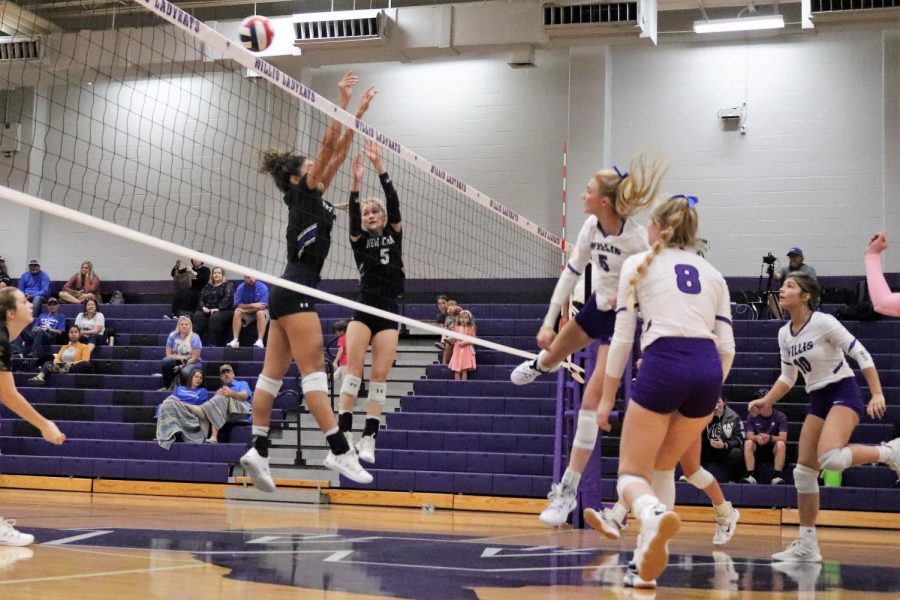 photo or infographic by Janice Talley
Being a leader is a tough job. 
Leading a group of peers is 1000 times tougher.  
It is a fact that the student leaders of tennis, volleyball and cross country know all too well. 
They are tasked with the responsibility of leading their friends and teammates in the good times and the tough times.
"My responsibilities consist of making sure everyone is on the same page on and off the court," senior Taylor Thomas said. "I am always uplifting the girls and coming in clutch when we need it the most." 
Leaders are responsible for leading the team and setting goals for the season.
"My hopes and goals for this year are that we make it to the playoffs and work hard to stay in it," Thomas said. 
Tennis choses their captains through a process that includes several steps.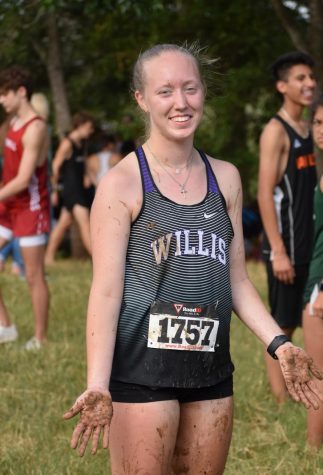 "I went through the process it took to become a captain twice; the end of sophomore year and then the end of junior year," senior Macey Conatser said.  "The process starts with writing an essay featuring information such as why you wish to be captain, what do you believe you could achieve as captain and how would you help the team bond," 
There is also an interview section of the process.
"Once the essay is submitted, an individual interview is conducted between the coaches and the player wishing to be captain. Then after the interviews are all finished the coaches then discuss who they would see fit to be captains being sure to consider many factors.
Student leaders learn that success for others also leads to a feeling of success for the leader. 
"My favorite part about the program is watching not only the team, but each individual push themselves to do their best and achieve their goals," senior Shelby Brown said. "I think this is important because we are motivated to do better when we feel accomplished, however small it may be; it becomes fuel for each of us to keep going and tackle the next objective. 
As the tennis team captain, Conatser wants to work with the other tennis captain, senior Brenan Mansker, to create a team who can be the best possible team. 
"As captains it is also our job to lead by example and help shape the team into the best that it can be, because of this l am very grateful to be a captain in the year that I am, not only because it is an experience I'll never forget, but also because of my fellow seniors along side me. These seniors help share that responsibility with Brenan and I, whether it be conscious or not, because they all do a very remarkable job at guiding the team and steering it to success in their own ways."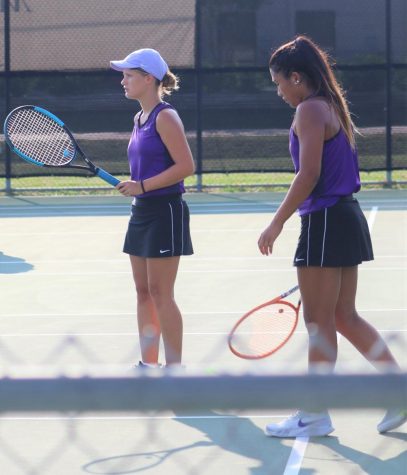 Leaving a legacy of accomplishment is a goal for many of the students who lead their peers as captains. 
"I recognize that for many this is the last year they may ever play competitive tennis, leading multiple to retire their racquets to join the military, workforce, or head off into college," Conatser said.  "With that being said, I want to make sure that these players find achievements in their tennis throughout the year, and can ultimately leave the Blythe Calfee courts feeling accomplished for all that they've achieved over the past four years. I have a goal that when I and my fellow seniors graduate from the team, we leave behind a positive impact that can help guide the future seniors and upperclassman on to success."
Leave a Comment
Students hone leadership skills under the Friday night lights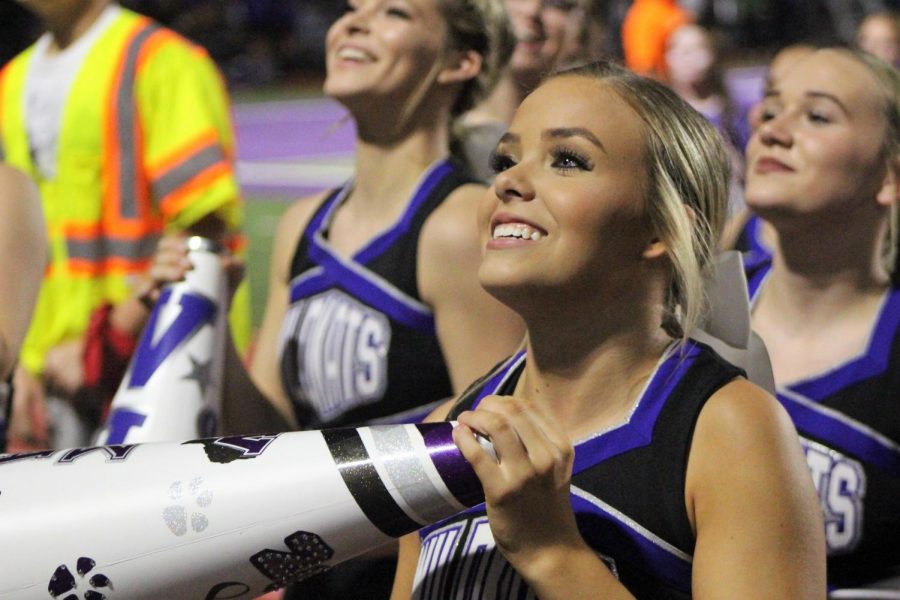 photo or infographic by Emily Meachen
Drum majors set the tempo as the halftime show begins. The cheer captain rallies the squad and decides which chant is best suited for the situation at hand. The iconic whistle of the lead sweetheart rings across the field to instruct the drill team. Football leaders huddle up to encourage teammates and make sure they are all on the same page. Hundreds of students participate in Friday night lights, but a select few are chosen as leaders on and off the field. 
Every Friday night, the various group leaders stand proudly on the radiant field to direct their teams and prove that all of their hard work is paying off. These select few have the honor of guiding the myriad of students who represent the school and its programs.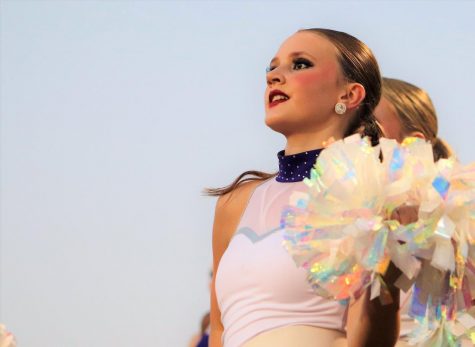 "I wanted to be a leader in the band program because I want to do everything in my power to help this program become successful," senior drum major Ian Conatser said. "It has given so much to me during my time in high school, so it is only fair that I do the same in return."
Taking on a captain or leadership role requires hard work and dedication that cannot be accomplished by all members of the group. 
"Knowing that Captain was my goal for my Junior year, I worked and worked and worked for that position," junior sweethearts captain Addison Williams said. "I practiced on the weekends, I practiced after practice, I competed with a solo during contest season to know where I needed to grow, I read leadership articles and I made myself available for my team and director. Through that blood, sweat, and many tears, I had achieved my greatest goal."
Once granted the honor of being named a leader, students are given the responsibilities that accompany it. 
"My responsibility increases as I have to lead by example and it is my job to lead my team to be the best we can," senior football captain Zachary Rodgers said. "My hopes are to be one of the best groups to ever come through Willis and to leave a lasting impact."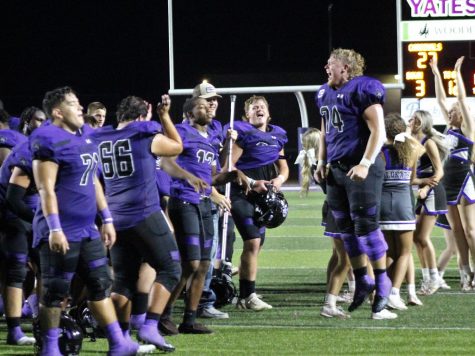 Each program has their own aspects that make it unique, and uniqueness is one of those aspects for at least one of the Friday night lights contributing groups. 
"My favorite part about the program is the amount of diversity within the program itself. No one person in the band is exactly the same," Conatser said. "This organization attracts people from all different ways of life so to speak. It's that diversity and uniqueness within each person that makes it such an amazing thing to be a part of."
Along with the social aspect of the organizations, they also offer lessons and opportunities to improve as a group and an individual.
"I love Sweethearts, and honestly drill team as a whole because it teaches you discipline, respect, passion, hard work, perseverance, and so many important life lessons," Williams said. "I would love to see the team do well in contest, and really grow to their full potential this year. 
Each sport and fine art spend hours during and after school together practicing and creating a bond with one another which can make them come together as more than a group on a field once a week.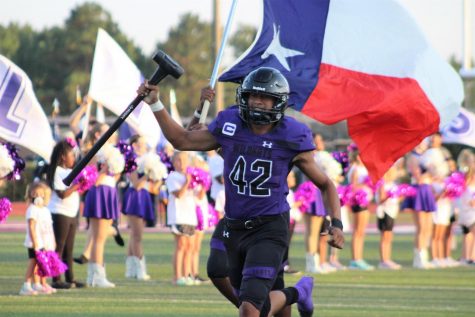 "Going through adversity with my teammates in the situation and environment we were in is unlike anything I've ever experienced," senior football captain Aiden Collier said. "It brings me closer to my friends and allows me to learn how to endure the tough times."
Captains have different opportunities to connect to and help their program members in a way that coaches often can't. 
"Being a captain comes with some huge responsibilities on the team and you see everything the coach doesn't," senior cheer captain Mady Feist said. "You're cheering with them, you know how they feel about certain things, and you can feel with them because you're also on the team doing the exact same thing they are doing. I love to be someone they can depend on and look up to and I hope the next year's captains to come will do the exact same thing and love their team as much as I love this team."
Leave a Comment