Willis grad throws hat into contest for Congress
Luttrell one of five former Navy SEALS running for Congressional seats
A high school student living in the Piney Woods of Willis, Texas.
A Navy SEAL in training living in sunny San Diego, California. 
A soldier in the deserts of Iraq and Afghanistan. 
A politician running for Congress back in the Piney Woods where it all began. 
From sweating on high school tennis courts as a 5'8, 150 lbs kid to sweating in the deserts of the middle east, former Navy Seal and Willis alum Morgan Luttrell is not afraid of working for his dreams. His next dream is to win a seat in the US Congress. He filed to run for the seat representing District 8 on Tuesday. He is one of five former Navy Seals running for a seat to represent the country they fought to defend. 
"I never had any intention of getting into politics and becoming a politician, but our congressman, Kevin Brady, is retiring after 25 years and being from the district and a Willis Wildkat graduate, I felt that I represent the district better than anybody else," Luttrell said. "It's important to have someone from our district that speaks our language and understands the people from Willis, Conroe and New Waverly to represent us in Washington D.C."
Dreams are often seen as just that- dreams, but Luttrell is teaching students that they can be more than that. He is giving them the hope that they can make their dreams a reality and showing them what is possible as someone who has been in their shoes.
"I would like to be a state senator, mostly because I think I have pretty good ideas when it comes to policy in the United States," junior Reid Henderson said. "It's really cool to see that we can make it. It's an inspiration for me because if he gets elected to Congress then what's stopping me from going to the Senate." 
"
I have never ever let anybody else's perception of me become my reality. The second that you do that, you'll never ever achieve what you want. I have followed my dreams and have gotten to most of them because I'm from Willis Texas, and I believed in myself."
— Morgan Luttrell
The political field gives people a platform to advocate for change and to fight for values and policies they believe in to better their communities and country. 
"Texas is the Alamo," Luttrell said. "We are the last batch of Republicans with conservative values, and I want to protect that. I fought in two wars, and it breaks my heart that our country is so divided. I've seen other countries that have started where we are headed, and I don't like it, so I want to be a part of the solution." 
The reality of entering the political field is something students need to think about when contemplating a career. Luttrell has had to learn about all of the difficulties that come with being in the spotlight.  
"When you're on the main stage, especially for U.S. Congress, when I announced myself as a Republican, half the country hates me just because," Luttrell said. "That's hard because when I was in the service, I was fighting for everybody. Dealing with that has been challenging, but it's doable." 
Students strive to enter the field for a variety of reasons, but one many of them have in common is the goal to make the nation a better place. Luttrell is not just any candidate to Willis students; he is an idol they can look up to and someone who proved that their goals are not just a fantasy. 
"As a student, I want to be as involved in politics as I can be because it directly impacts my future," senior Brenan Mansker said. "After beginning my own professional career, I would possibly consider running for office to make an impact on the people around me. Having Morgan Luttrell run for Congress in District 8 fills me with pride for our school. It proves that even coming out of a small town, Willis graduates have the ability and drive to make a difference on a national level." 
He is already making change in the district as a candidate by inspiring not only students but adults as well leading to a change of political actions in the area. 
"I was very proud of him, but I never could've dreamed that he would run," Luttrell's former theatre teacher David Vela said. "I'm a Democrat, but for the first time in my life, I'm crossing over to vote for Morgan. I hope he wins." 
Luttrell is giving back to the community that raised him, that saw him through all his years of school, that is his family. He knows there is something special about District 8 and plans to give it a voice in Congress. 
"We're a family here, and it's rare," Luttrell said. "I've been around the world multiple times, been to every state in the Union, and there is something special about our district. We're everything from farmers and ranchers to Fortune 500 companies, all right here in this little area, and it's home. It's always been special." 
Most people face self-doubt, adversity and judgment from others at some point in their life, but how they react to it is what makes them who they are. It is ultimately up to them to decide if they will see themselves at who others see or who they wish to become, and Luttrell has proved to high school students that they can make it through his example. 
"I have never ever let anybody else's perception of me become my reality," Luttrell said. "The second that you do that, you'll never ever achieve what you want. I have followed my dreams and have gotten to most of them because I'm from Willis Texas, and I believed in myself."
View Comments (3)
Donate to The Voice of the Wildkats
Your donation will support the student journalists of Willis High School. Your contribution will allow us to purchase equipment and cover our annual website hosting costs.
About the Writer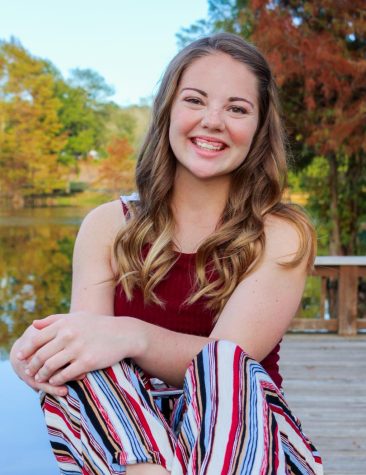 Heather Jackson, VOW photography manager
Heather is a senior on the school's varsity tennis team. Last Spring, she became a State Champion in Journalism UIL for News Writing in 6A. She made...