A star among us
Senior plays a role in locally filmed movie, 'The Author'
As Brody McNew walked through the doors of the Crighton Theatre, got a plate of food, and grabbed his seat, anticipation rose in him. The bustling audience quiets as the lights dim in the theatre, and the movie begins. "This is it," he thinks. "This is what we made."
The movie "The Author" follows a struggling author, James Harrison, who goes off grid to find himself; however, he gets hit by a car, causing him to lose his memory. Doctors tell him to try to write down his life story in attempt to restore his memory. 
McNew provided financial support for the film, as well as working as an extra through multiple scenes alongside his sister. He had many chances to meet kind people during his experience. 
"During the filming process, there was, the man that played the cafe owner, he was the sweetest man alive," McNew said. "He came over and he kept talking to me about 'Oh, never get into filmmaking, you'll be here for the rest of your life!' It was just a really funny experience, just him having a good time and laughing, very sweet man." 
Being a part of the cast, McNew was able to go to some interesting places to shoot the film, both not so near and local places most people don't always pay attention to. 
"We went to a funeral home outside of, a long way away, I don't remember exactly where, but it was a very interesting place," he said. "Where the cafe scene was at, I'd never been there before. It was next to downtown Conroe. It was really cool to be somewhere I'd always passed by, but I had never been in there, ever, which was very interesting to me."
Though the movie had a great team, there are a few changes McNew would have made. 
"It could have been a little bit shorter, the film was about three hours long," McNew said. "I think they probably could have ended it like halfway through, it had a resolute ending, but I would have probably changed a lot of the really long scenes where it was just them saying the same thing over and over, it was a bit repetitive." 
McNew's experience creating the movie as a whole was gratifying, there were things he felt he missed out on during his time working on the project.  
"I was upset I didn't get to talk to the cast more though, because all of them were very very nice people," McNew said.  "It was a relatively small movie, so everyone was very well connected. Very very nice, everyone was very supportive of each other and the filmmaking itself."
Anyone who has ever been in a stage or film production can testify that at the end of everything when it has all come together, the emotions behind that are the greatest feelings in the world. For Brody, the premiere was nothing short of this, even if there were a few bumps in the road. 
"With the premiere, there was a few, hiccups along the way," McNew said. "The cast and directors did not show up for like, about twenty minutes after they were supposed to, so we started very, very late. Whenever we went through it, it was actually very nice. They got us food and stuff, and we got ourselves seats. They came up and talked for a while about thanking everybody, the supporters and all the actres that were in it, and altogether it was just a very comforting experience to know, 'it's done, it's here, this is what you made.' Very nice, very touching."
Leave a Comment
Donate to The Voice of the Wildkats
Your donation will support the student journalists of Willis High School. Your contribution will allow us to purchase equipment and cover our annual website hosting costs.
About the Contributor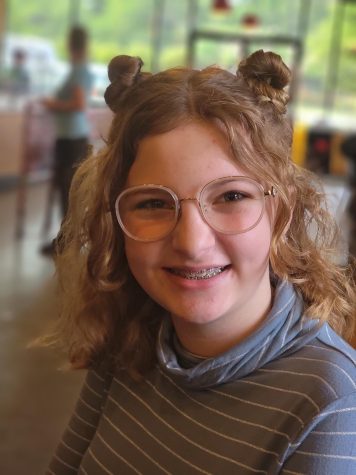 Gracie Brumlow, VOW staff
Gracie Brumlow is a freshman at Willis High School. She enjoys theatre, choir, and of course, writing. This is her first year on the newspaper staff, and...