Everyone knows him. Everyone loves him. He brings joy to all the students of the ag barn. Affectionately known as Mr. Pickles to the Wildkats who know and love him, the cat who is guards the barn now needs help. 
After the long weekend, the news hit social media. Over the weekend, the beloved pet cat of the ag barn, Mr. Pickles, was injured and rushed to the vet.
"One of our families has taken particularly good care of him by taking him to the vet after his recent accident," ag teacher Tanis Price said. "He got into an altercation with a fox causing damage to his leg that ended up needing surgery from the puncture wounds." 
A gofundme was set up for the vet bill's for the cat. After a short time, the goal was met. This shows how much Mr. Pickles is loved. He loves to be very social with all of the students at the ag barn. He also loves to be petted by them.
"Anytime I go to the barn Mr. Pickles is always there to greet me, and is always very friendly not only me, but any of my show animals," sophomore Roddie Honea said.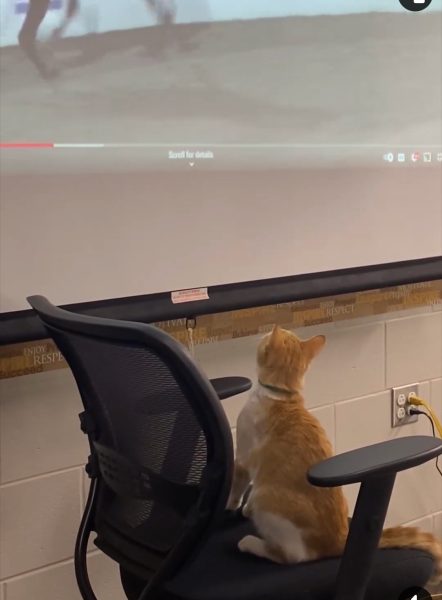 Just like how Mr. Pickles loves the students and their pets. The students also love him very much and like to take care of him and make sure that he is ok.
"During class, you can find him wandering around getting pets from his students or in the ag office taking a nap to enjoy the A/C. After school, the barn kiddos care for him as they each check on his food and water," Price said.
At this point Mr. Pickles is basically the mascot of the ag barn. Almost everyone in the school knows who he is and loves to go visit the Mr. Pickles barn to go pet him.
"I definitely see him as the ag mascot," sophomore Melody Cortes said. "He is really what makes class better. He always gets in my lap and wants me to pet him."
Mr. Pickles isn't just the ag barn mascot, but he is also the barn's security guard. He loves protecting all the animals.
"He loves his barn kids and protecting the animals from rodents," Price said. "He is loved by everyone who meets him."
Mr. Pickles is always there for all of the students when they need him or when they want to cuddle in the classroom.
"A special moment I had with Mr. Pickles is when he followed me all the way down the hallway and into the classroom and sat with me before my class started," sophomore Tylar Garcia said.
Mr. Pickles is a very famous cat not just to the ag barn but also all of school. All of the staff knows who the legendary cat is.
"I would say that Mr. Pickles is the ag mascot because everyone whose in ag knows him, has pet him, or seen him at some point," Garcia said. "Of course the ag mascot has to be an animal, and what better pick than the famous cat Mr. Pickles."