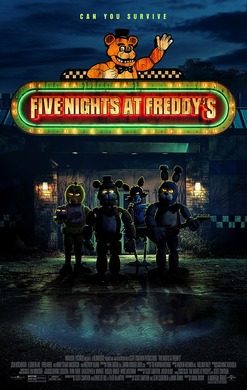 With October being a month full of frights and spooky themes, it only makes sense that a game known for its' scary premise would have a movie adaptation released this month. "Five Nights at Freddy's," a game that lives rent free in the Generation Z's childhood memories, has a movie recreation coming to theaters October 27, 2023. 
Being a large part of some childhoods, this movie is sure to evoke some feelings of nostalgia, but it also makes viewers question if that'll be all it's good for. 
"I think the movie might be a little bit disappointing, but it's just like a nostalgia watch," senior Dorcas Bawa said.  "And I definitely think it'll be less scary than the game. Like when I was younger I had nightmares but I know it won't scare me as bad now."
Still, some students remain hopeful that the film will stay true to the franchise and all the lore it's worked to develop over the years. 
"They've already had to rewrite this movie about four or five times which makes me think they're not keeping to the lore, and that's the exciting part of the games," senior Aiden Hamilton said. "They're definitely going to try and overuse nostalgia stacking to compensate for that but let's hope it turns out well." 
Low expectations seem to be the norm for many die hard fans of the franchise. Some are wondering how the movie itself will compare to all the hype it's receiving. 
"My expectations are pretty low honestly," junior Brianna Cianceruso said. "I think that they overdid themselves with the game and everyone is expecting it to be amazing. It's going to look different and they're probably going to make up a completely different story line."
At the end of the day, everyone who watches the movie will have a different experience, but knowing the lore could help them understand some of the more obscure details. 
"I think they'll have the game set in a different universe and the characters may have different symbolic meanings than they did in the games," senior Jacob Player said. "I think being more aware of the lore will help people understand some of the big dramatic effects and how they're connected to the series, but they'll still have the same viewing experience either way."
Editor's Note: Over 50,000 people have viewed this story since posting on 10/23. Many of the readers have posted comments. It is the VOW policy to never post a comment with racial slurs, personal attacks or profanity. This article is a feature story presenting the opinions of several of our high school students, not the opinion of the writer. Make comments, have a conversation, talk about the movie you are excited about seeing. Come back and read the review whether you liked the movie or hated it. If your comment is missing from the thread, it was not verified via email from the website, it was a personal attack or it contained profanity.