Op Grad kicks off fund raising with t-shirt sale
It has been a rough start for the seniors. The traditions that they have looked forward to are in possible jeopardy.
But there is a group of senior parents dedicated to keeping one tradition alive and well for the class of 2021. Operation Graduation is currently planning multiple fundraisers and selling school spirit filled t-shirts. 
"We will have different fundraisers all year around," Operation Graduation leader Annie Moore said. "Mr. Wildkat, powderpuff, t-shirt casual day for teachers, merch sales and auction baskets for the last home game are just some of the fundraisers we have planned."
T-shirts are the best way to show off school spirit. 
"We have three different designs available," Operation Graduation leader Michele Davenport said. "The Wildkats Never Die t-shirt is in stock right now, and all the other t-shirts will be pre-order."
Many of the t-shirt design ideas come from the life of students themselves. 
"One t-shirt design is the Whatasenior shirt that I got inspiration from a different shirt I had seen before," owner of Peaches' Closet and senior parent Jeannie Nelson said. "Whataburger is also a hang out spot for all the kids, so I wanted to include it in our designs."
Operation Graduation provides some hope to the class of 2021.
"It gives me hope for a regular senior year because I already know we may not going to get homecoming and Friday night games," senior Olivia Bell said. "It feels good to know that they are trying to give us what the classes before us had."
Buying a shirt is an easy way for all seniors to help OpGrad met their fund raising goals.
"My favorite shirt design has to be the Whatasenior," senior Megan LeBlanc said. "While the other options are cute, this shirt is witty and stands out."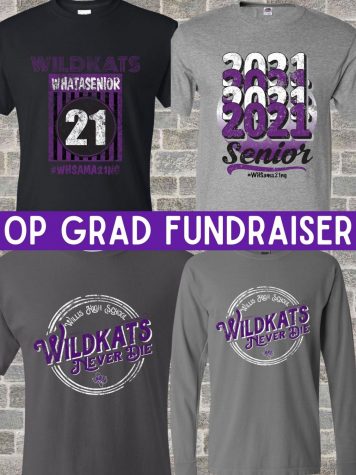 Anyone can participate in Operation Graduation.
"Our next meeting will be September 1st," Moore said. "It will be held at the Walnut Cove Community Center from 7:00 to 8:00."
Graduation night is months and months away, but knowing there are parents who are already going that extra mile is comforting to some seniors. 
"What OpGrad is doing gives me hope that things will go back to normal and the class of 2021 will get the senior year we want and deserve," senior Emily Perez said. 
Operation Graduation is doing a fundraiser where teachers can wear jeans on Wednesdays if they buy a shirt and pay $50. The money goes straight into the account for the gradation night event. 
"I wanted to show support for the senior class," Family and Consumer Science teacher Jennifer Carver said. "I am looking forward to the jeans day too."
Seniors know they will have a memorable year if the parents and staff continue to work together. 
"The fundraising for OpGrad shows me that we are not alone in this fight to persevere through the pandemic," senior GianReo Mire said. "The wonderful faculty at our school wants us to have a memorable senior experience just as much as we do." 
All updates and future meetings will be posted on social media.
"Our meetings and the link to Peaches' Closet t-shirts are posted on our Facebook, twitter and Instagram," Davenport said. "Our handle is WHSOpGrad2021."