Seniors share hints for survival
This is the first in a series of articles where students will offer advice for the group coming after them. For the first article, senior Carlie Rutledge interviewed her senior peers for great advice for juniors.
Senior year: it is the first last of many. Seniors have finally made it to the final chapter of their high school careers. They reminisce on the good times and recoil at the bad times. All of them said they were ready, but were they fully prepared for what senior year throws at them? 
As juniors, they hear about all the fun activities that happen during senior year, but no one really talks about all the hardships that come with it. As seniors, they wish they would have had someone to give them advice on their endeavors and preparations for graduation. Students do not realize how much hard work is needed for senior year, not from just school work, but outside activities too. 
There are only 365 days in a year, 180 of those are spent in school. There are only 24 hours a day, with eight of them being spent at school, two of them being spent in extracurricular activities, five of them being spent at work, one being spent with friends or family, and the remaining eight are to be spent sleeping. Suddenly, those hours are being whisked away, and it seems like there is no time for anything. 
"A piece of advice that I'd wish someone would have told me for my senior year is to learn how to properly time manage," senior Emily Perez said. "Many seniors take AP or DC classes, are involved in sports and clubs, and have to work. They also have to apply for scholarships and colleges. Apart from all of this, they have to make sure they spend time with their friends and family. All of this is extremely time-consuming and therefore requires good time management."
If students work hard from the start, senior year will not have to be spent trying to do makeup work.
"Focus on your SATs and class averages so by your senior year your GPA would be even higher, and you wouldn't have to work as hard your senior year to get your GPA up," senior Ryan Chapman said. 
Although the junior year is a lot of school work, senior work is just as tedious, but not because of school. 
"I would give the juniors the advice that it is going to be a challenging year, but senior year work is just as difficult, however, you need to be prepared for the stress that comes from outside of school, such as college applications, scholarships, and financial aid," senior Megan LeBlanc said.
Procrastination will hurt students in the application process.
"Start the application processes early," senior Bailey Gordy said. "It seems like something you can procrastinate on but you won't be accepted everywhere."
Senior year is one last hoopla, but it is not time to lie down on the job.
"You still have to put in the work senior year," senior Jenna Day said. "It's okay to have a good time with friends and enjoy your last moments together but it's not time to slack off."
Not only do students have a lot to complete their senior year, but so do the teachers who are trying to help them.
"Get your recommendation letters as early as you can," Gordy said. "Teachers have a lot on their plate, too, especially the DC and AP ones, and the earlier they know the less stressful it is, and the more effort they can put into your letter."
Seniors are not the only ones who can tour colleges and universities, so junior year is the perfect time to start looking. 
"I would tell them to already start looking into colleges before senior year, it really helps prepare you when you're planning ahead," senior Taylor Bailey said.
Work hard senior year, but remember it is also a time to have fun.
"Attend everything, do not skip out on any memories," senior Kelsey Rogers said. "Especially because of Corona, I've missed out on a lot and wish that everyone else can love their senior year to the fullest."
Regardless of if it is to get into college or get scholarships, deadlines sneak up on students.
"Senioritis definitely exists and if you haven't already gotten into a college (or have an alternate plan) then get to it," senior Lexi Wagner said. "I was automatically accepted into UT Tyler but a few of my friends are still rushing to get scholarships before the deadline."
Everyone is ready to get to the finish line and walk across that stage to graduate, but seniors need to stop and smell the roses sometimes and not be in such a hurry. 
"You should not try to take your senior year for granted," senior Alex Hopkins said. "Every moment that you get from this year will be the last one of something, so don't waste it."
Sometimes it is better to take a step back and relax a little instead of overworking. 
"Lastly, and this might be the remote learner speaking, yes it's the last stretch and it feels the busiest, but there is no need to push yourself to exhaustion," Gordy said.
As COVID-19 has shown the world, everything can be taken away in an instant. 
"Enjoy what you can now, take nothing for granted, just because it's your senior year, you might not get the full experience because nothing is guaranteed," senior Tyler Knopp said.
Senior year is fast-moving and so full of decisions, so it is better to start thinking about them early instead of stressing about them at the last second.
"Definitely get your plans for college settled or at least think about it, it'll help if you don't wait until the last minute to make plans," senior Summer Longacre said. "Senior year is only as hard as you make it."
Leave a Comment
Donate to The Voice of the Wildkats
Your donation will support the student journalists of Willis High School. Your contribution will allow us to purchase equipment and cover our annual website hosting costs.
About the Writer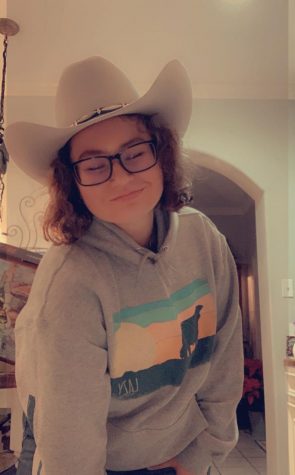 Carlie Rutledge, VOW co-editor
Carlie is a senior, plays varsity tennis and is historian for National Honor Society.  She hopes to go to the University of North Texas to major in photojournalism....