Two Wildkat UIL competitors qualify for state competition
From 186 to three. It is quite an impressive story. 
Sixty-two schools belong to Region II-6A.  Some of the names are familiar: The Woodlands, Bryan and Waco. Some names are new to the ear: Wylie, Horn and Harker Heights. Each school sends their best news writers to district competition. The top three from each of the 10 districts make it to regionals. So from the original 186, three of the best of the best make it to the state meet. 
On Saturday, April 17, at Klein Collins High School,  junior Heather Jackson was one of the top three. Her news story placed 3rd, earning her a trip to the state tournament on May 1.
"I was dumbfounded when I learned that I qualified for state. I could not believe it," Jackson said.  "I even had Ms. Meachen check three times before I would allow myself to get excited about it."
Jackson has been on the UIL team since she joined the yearbook staff her sophomore year. Each story she writes for the "Wildkat" yearbook or "The Voice of the Wildkats" newspaper is essentially practice for UIL, but the short time for writing the story and the fact that the judging is very subjective causes some writer a little anxiety.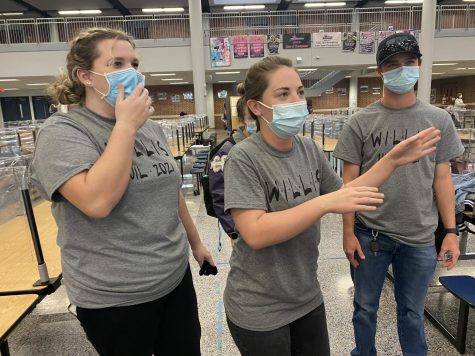 "I have learned that once you know all of the rules and ins and outs of your event, it doesn't help to stress about your ability," Jackson said. "You need to be confident when entering the testing room and just do what you have been preparing for. You need to have confidence in your abilities because freaking out will only bring you down. There is such a short amount of time to show the judges what you can do, so all of your focus needs to be on that and not worrying about whether you'll place or not."
While Jackson was writing a story at Klein Collins, senior Julianna Needham was also competing at regional UIL. But her event, Informative Speaking, was a remote contest, so she was stuck here at the school. 
She also beat incredible odds to place in the top three to earn a trip to state.  Her story is almost identical. Three speakers from each school. One hundred eight six speakers narrowed down to three – and Needham was number three. 
"I was in total disbelief whenever I made it to state," Needham said.  "After finals, I had believed that I had given a very bad speech but after I talked to my two biggest supporters, Mr. Slovak and Michael Schwolinski, they said that it was one of the best speeches they had ever heard."
Not getting to travel to compete would get some competitors down, but Needham relied on her coach, Slovak, and her teammate and fellow competitor Schwolinski.
"Without Slovak and Michael, I wouldn't have made it past district because their confidence gave me confidence," Needham said. "In an event like Extemporaneous Speaking, you have to be sure of yourself and hold yourself in a position of wisdom, in order to show the judges you know what you're talking about.
The two state bound academic competitors were not alone in excelling at regionals. The journalism team, junior Brenan Mansker, junior Katherine Lee and junior Summer Rains also placed at regionals. The were the 3rd place team at regionals.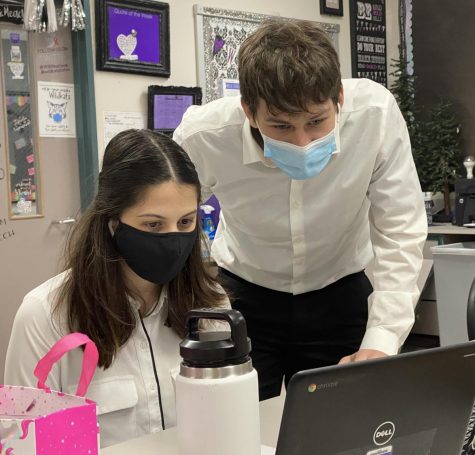 "Placing at regionals is such a hard thing to do," journalism coach Emily Meachen said. "To have so many students place is a testament to how hard they work and how talented they are.  We have competed remotely and practiced all year to get here, and I could not be prouder. 
Meachen has coached journalism UIL since 2002, and five previous journalism students have competed at the state meet.
"I don't think I will ever get used to that feeling when you find out one of your students has made it to state," Meachen said. "I am sure hearing your own name announced feels better, but I cannot imagine it feeling any better than the happiness I have for Heather and Julianna."
Most students who are involved in UIL contests like Needham and Jackson are also involved in many other school and civic activities. Both recommend students carve out time to compete in UIL.
"UIL is amazing because you can receive recognition for your skills and it is also a great confidence booster," Jackson said.  "It is also great because you get to spend the whole day with an amazing group of people. It allows you to strengthen friendships and make memories that will last longer than the feeling you get when you place at competition."
Needham also notes relationships built as the highlight of participation. 
"It's really fun to compete with others and gain new friendships with your competitors," Needham said. "One lesson that I have learned in my journey state-bound is that you will always be your biggest critic, and the most important thing you can do is take advice from those who care about you."
View Comments (1)
Donate to The Voice of the Wildkats
Your donation will support the student journalists of Willis High School. Your contribution will allow us to purchase equipment and cover our annual website hosting costs.