It's Monday evening, Nov. 6, and the performing arts center is dimly lit, save for five colored candles.  Heather Lebow and Jennifer Mitchell step up to the podium, welcoming parents, as inductees wait on the edge of their seats for the ceremony to begin.  
National Honor Society is an organization that awards students' academic accomplishments with prestige, but it can mean so much more. To some, it's a chance to continue to show their aspirations for their education as their family has done before them. 
"This is something I've looked forward to since freshman year," junior Alexa Hernandez said. "I got to see my older cousins and friends going through this process and now that I'm here it feels pretty good."
When students go the extra mile in their academics and their community, it's not long before they see some results. National Honor Society is just one of many ways students have the potential to reap those benefits. 
"This ceremony is significant to show that we're all really good academic students," senior Lilly Galarneau said. "We try our hardest to achieve anything that's possible."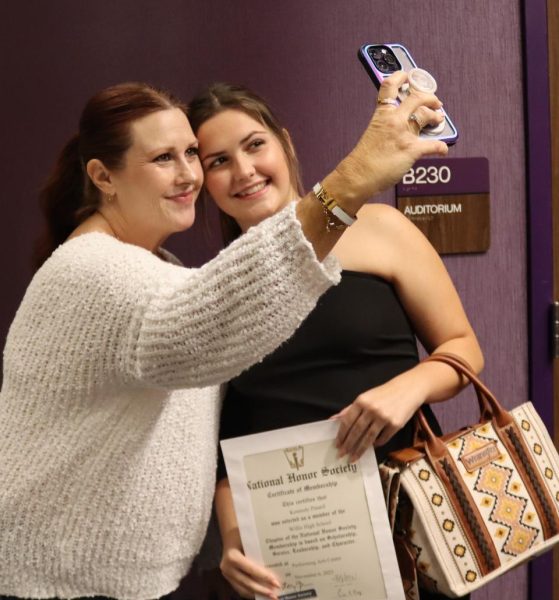 The school's math honor society, Mu Alpha Theta also inducted members. Many of the students were inducted as members of both honor groups.
"I think that they help showcase our students and show off how good some of our students can be," junior Alexis Plummer said. "If I had to tell underclassmen one thing, it'd be to not procrastinate. I used to be really bad about that, and when I finally stopped it really helped keep my grades up." 
Family influence may be an inspiring factor for many students, but there are many other opportunities and benefits that result from becoming a member of National Honor Society and encourage students to apply. 
 "I wanted to join NHS because its prestigious and my mother encouraged me to," senior Marcus Shumake said. "Clubs like this help develop your leadership skills and give you better opportunities for college."