New choir director stars as Mary Poppins
The lights dim and the excited hum of the audience quietens in anticipation. On stage, the faces of performers can be seen under the blue light, but then the smile of a familiar redhead can be seen. Only this time, her back will not be to the audience as she conducts Wildkat Choir, but instead, she will be the one performing. 
From performing on stage to directing an award winning choir, choir director Laurelyn Korfhage has had a whirlwind of fine arts experience. Receiving a Bachelor of Music in Musical Theater from Oklahoma City University, Korfhage is no stranger to the stage. But, since she has been teaching and conducting her own choirs, she has taken a hiatus from performing, until last spring. Korfhage participated in the Musical Bright Star as an ensemble member while leading two of her choirs to Sweepstakes at UIL. This fall, she will play Mary Poppins at the Crighton theater in Conroe while taking on her new position as Head Choir Director. Mary Poppins opens tonight at Crighton Theater. 
"I participated in my first musical at the age of 8," Korfhage said. "I got hooked, and continued being in productions non stop from then throughout high school. We performed "Anything Goes" as well as "Crazy for You" – I played Tess: an energetic, tap dancing sidekick who holds it all together for the chaotic lead characters."
While in high school, Korfhage participated in choir, show choir, theater, and visual art courses and was no stranger to all parts of performing. She fell in love with teaching after graduating. 
"One thing I can say with full confidence, is that the 'teaching choir' part of my job never really feels like work," Korfhage said. "I am so lucky to be able to teach music for a career, and being the teacher of record for Varsity Treble gave me the opportunity to pick some really challenging music. I was so excited that I planned out our entire year of repertoire the summer before."
At the end of the 2021-2022 school year, Korfhage was promoted to head director as former head director Ken Labonski was promoted to Fine Arts Director for the district.
"Honestly, becoming the head director of Wildkat Choir feels like a natural next step," Korfhage said. "Mr. Labonski is such an outstanding teacher, and works harder than anyone I've ever known. It just makes sense for him to move up to the next level. I am honored to follow in his footsteps."
Korfhage went to College Park High School and was a student of Labonski for one year. Korfhage became assistant director in 2017.
"I wouldn't change a thing about my journey here at WHS," Korfhage said. "There have been crazy ups and downs, but they've all taught me how to react productively in a multitude of situations, and how to help others become the best versions of themselves."
Being a part of a musical is a full time job, with the daily rehearsals and hours of music and choreography to learn, and it is no easy feat to balance it all.
"My biggest challenge was balancing my personal life with work/rehearsal," Korfhage said "I take a lot of pride in taking care of my health, my dogs, and my relationship with my fiancé – we definitely had to work together to keep life on track with only being able to spend a minimal amount of time together. But, it's been awesome to see my voice grow, and be seen as a confident, leading dancer."
The key to balance is having support, and the support from fellow cast members backstage is incomparable.
"The sense of family and community that comes along with bringing a story to life on stage is like nothing else in this world," Korfhage said. "I've loved getting to know an entirely new group of people in this area who all have different careers and are in different places in their lives. But we all have one huge thing in common in storytelling and performing. I've made some new life long friends through this process which is really amazing."
Performing from a young age, Korfhage has seen it all. And now as a teacher and mentor to other aspiring performers, Korfhage can share her knowledge from on and off the stage. 
"I would tell my younger self to not put so much stake in what other people's opinions are," Korfhage said. "Be secure in yourself and your abilities. Know that you love to sing and perform, and that should be enough. Do what you love, and continue to be inspired by what brings you joy."
Leave a Comment
Donate to The Voice of the Wildkats
Your donation will support the student journalists of Willis High School. Your contribution will allow us to purchase equipment and cover our annual website hosting costs.
About the Contributor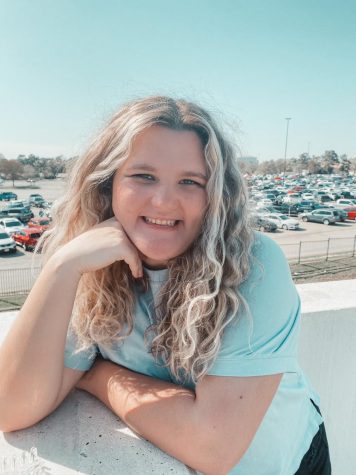 Katherine Lee, VOW editor
Katherine is a senior and co editor of the school newspaper. For the past 2 years she has made All-State Journalism Staff and made it to regionals last...