Crimson Peak 2015 (R)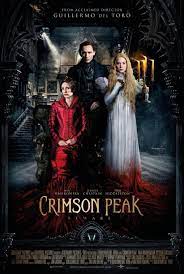 "Ghosts are real. This much I know for sure." – Edith Cushing (Mia Waskowska)
A chilling realization that is stated throughout the movie, we follow a writer that falls in love with a mysterious man from out of town. We come to learn the man as Sir Thomas Sharpe, Baronet (Tom Hiddleston), a man that has been traveling throughout Europe and now America to pursue his invention with his sister Lucille (Jessica Chastain).
The plot is thickened throughout with the clever use of soundtrack, lighting, and use of amazing dialogue to progress the story from Edith's perspective. This telling helps open up a multiple sided story that follows every character in their pursuit of their own goals without telling of their true intentions until their death. This beautiful story telling of leading us on throughout the story leads to amazing suspense and drama, as well as the terrifying realizations of what the true tellings are of everyone involved. Perfect use of the "ghosts" and CGI to help tell the story and further the plot make the jumpscares and reality of the situation all the more horrifying as we go through Allerdale Hall. The use of emotional and physical relationships to show the plot taking a twist helps push the narrative with almost every character involved, making later dialogue between certain characters all the more gripping as you can hear the malice and realization in between every word spoken.
Guillermo del Toro's Crimson Peak, while not selling well in box office, is a must watch. From the set, to the incredible actors, to the amazing setting of the movie, there are hardly many things not to like. The grips that I have with the book is that it can be paced poorly at times, especially in comparison to other horror movies, but I think the poor pacing within the movie actually helps elevate the horror at times and can make the dramatic scenes so much better. This dramatic, romance, horror isn't for classic horror fans, but is much more suited for those who love the likes of Edith wharton "Ethan Frome" or Jane Augesten's "Pride and Prejudice." The classic spin on the eighteen hundreds setting with heavy horror elements, but with love and drama mixed in help tell an amazing story that I believe romance and horror film fans will love.
Leave a Comment
Donate to The Voice of the Wildkats
Your donation will support the student journalists of Willis High School. Your contribution will allow us to purchase equipment and cover our annual website hosting costs.
About the Contributor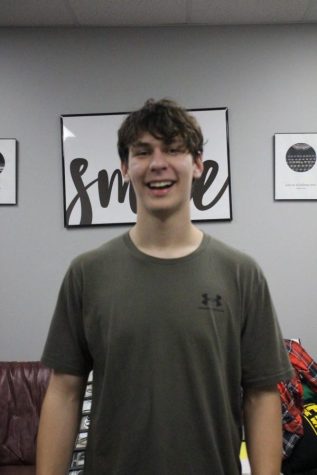 Michael Scholwinski, VOW staff
Michael Scholwinski is a 1st year newspaper staff member who has been active in many aspects of school life. A previous football player and current wrestler,...